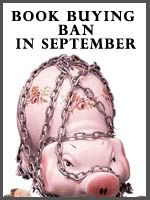 SUCCESS! (Kind of)
For the month of September, Bella from
A Girl Reads a Book
was hosting a
TBR Month or September Book Buying Ban
. We all had so many books sitting on our shelves waiting to be read, but kept going out to pick up more or even acquiring review copies of books. So, we all got together and decided to give our poor, neglected books and authors our attention for the month of September.
Here were my results:
Books Read

Finished Middlemarch (Books 7 and 8) – George Eliot

Started The Alienist – Caleb Carr
Books Acquired (yes, there were some but I didn't buy them)
So, the month wasn't a total bust, but I did acquire four books I didn't expect to (but still love of course!!!). I did stay out of the bookstore even though there were a few books that I would have impulse bought. I did keep a spreadsheet and overall, I would have spent $65.45 and had a few others I would have absolutely kept my eye on. So, it was a win especially because Tropical Storm Hermine came through our area and it now looks like my kitchen is going to undergo a major remodel because we had some minor flooding. Glad I saved my bucks for a rainy day (oh this pun WAS intended)!
I had a terrible ache to buy a few books, but I had so much fun on the ban meeting new bloggers and moping about on Twitter. I found that we distracted ourselves a lot with other conversation as well and got to know each other better which was AWESOME. I don't know that I'll ever do another complete ban, but I'm going to do like
Amy from Amy Reads
did and give myself credits. I think I'm going to make it that so that I can buy 1 book for every 5 that I read in my house. It might change to every 3, but yeah…that's my choice if I do it that way! haha!
Thanks again to all the bloggers that were in the challenge with me and a huge thanks to
Bella
for hosting the challenge. It was heaps fun and I love that all you guys are so awesome! Here's my first vlog and watch to the end (or skip to the end) where I send out a call for help from all you non-native English speaking bloggers!