On Fridays I normally do
Friday Coffee Chat
posts but this week is special because it's time for BlogFest! Don't worry though because
Jennifer at Girls Gone Reading
is still doing a
Friday Coffee Chat
post so get your cup of joe ready and go chat with her about
Overblown Authors—Too much hype, too little delivery
. I can think of a few myself so I'll be sure to take my opinion to her chat!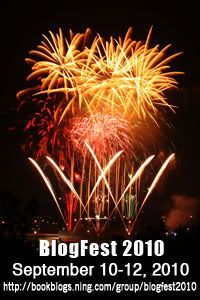 A Journey of Books
is hosting
BlogFest
this year and during the days September 10-12, 2010, blogs that have signed up have agreed to post at least one giveaway on their blog. I am posting a few giveaways this weekend!
_____________________________________________________________
Giveaway #1 – Book Read 'Round the World
(Giveaway Closed)
The first is an ongoing giveaway that will run through October 1. The giveaway is international and is open to anyone who would like to enter! For my
Book Read 'Round the World
event that is ongoing, I am giving away a signed copy of The Lunatic Express by Carl Hoffman. Mr. Hoffman was excited about the event and was nice enough to provide a copy to give away. The book is fantastic. Click
HERE
to read my review.
I am also giving away two pairs of origami earrings that my wonderful cousin made. The first are paper cranes and the second are kimonos. I love them both and secretly want to keep them even though she sent me my own pair as well!
This giveaway is open through
October 1, 2010 and is International. Winners will be announced shortly after October 1.
**You MUST write in what order you prefer the prizes (ex. 1. The Lunatic Express, 2. Kimono Earrings, 3. Paper Crane Earrings)**
*Winners will be chosen by Random.org.
Enter the Book Read 'Round the World Giveaway!


Giveaway #2 – Reclaiming My Shelf Space
Giveaway closed
OK…I'm not gonna lie. I need to get rid of some of the books I've read to make room on my shelves for some shiny new books! So here are a few that I am getting rid of and can be yours to read!
This giveaway is
U.S. Only and will be open until September 12. Winners will be announced on Wednesday, September 15.
*Winners will be chosen by Random.org
Beat the Reaper – Josh Bazell
From the back of the book:
Dr. Peter Brown is an intern at Manhattan's worst hospital. He has a talent for medicine, a shift from hell, and a past he'd prefer to keep hidden. Pietro Brnwa is a hit man for the mob, with a genius for violence, a well-earned fear of sharks, and an overly close relationship with the Federal Witness Protection Program. Nicholas LoBrutto is Dr. Brown's new patient, with three months to live and a very strange idea: that Peter Brown and Pietro Brnwa might—just might—be the same person… As goons, G-men, and death itself descend on the hospital, Dr. Brown must do whatever it takes to save his patients, himself, and his last shot at redemption. He just has to get through the next eight hours—and somehow beat the Reaper.
The Bourne Identity – Robert Ludlum
From the back of the book:
Jason Bourne. He has no past. And he may have no future. His memory is a blank. His bullet ridden body was fished from the Mediterranean Sea. His face has been altered by plastic surgery. A frame of microfilm has been surgically implanted in his hip. Even his name is a mystery. Marked for death, he is racing for survival through a bizarre world of murderous conspirators—led by Carlos, the world's most dangerous assassin. Who is Jason Bourne? The answer may kill him.
The Art of Racing in the Rain – Garth Stein
From the back of the book:
A heart-wrenching but deeply funny and ultimately uplifting story of family, love, loyalty, and hope—a captivating look at the wonders and absurdities of human life…as only a dog could tell it.
Empress Orchid – Anchee Min
From the back of the book:
From a master of the historical novel,
Empress Orchid
sweeps readers into the heart of the Forbidden City to tell the fascinating story of a young concubine who becomes China's last empress. Min introduces the beautiful Tzu Hsi, known as Orchid, and weaves an epic of a country girl who seized power through seduction, murder, and endless intrigue. When China is threatened by enemies, she alone seems capable of holding the country together. In this "absorbing companion piece to her novel
Becoming Madame Mao" (New York Times),
readers and reading groups will once again be transported by Min's lavish evocation of the Forbidden City in its last days of imperial glory and by her brilliant portrait of a flawed yet utterly compelling woman who survived, and ultimately dominated, a male world.
Giveaway #3 - Celebrating Becoming a Book Depository Affiliate
Giveaway closed
For my last giveaway, I am advertising becoming a Book Depository affiliate by giving away any book of your choice that is less than or equal to $15 USD. This giveaway is
International and will be open through September 12. Winners will be announced on Wednesday, September 15.
*Winners will be chosen by Random.org
Last, but not least, here is the link to the next blog for BlogFest! Make sure you visit:
Blog #256 -
Jordan Deen
For a full list of blogs participating in BlogFest, make sure you visit (and also for trackback purposes):
A Journey of Books