Well, BlogFest is over and even though I was out of town, lots of people dropped by my blog to enter my giveaways! How exciting! Thanks to everyone who dropped by and became a follower—it wasn't required to enter, and I was overwhelmed by how many people subscribed to my feed and became followers! You are all awesome!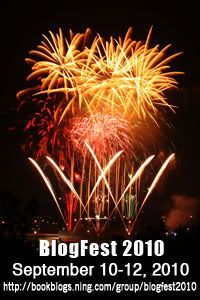 I also want to thank
A Journey of Books
for hosting
BlogFest
. It was a lot of fun to participate! So, with no further delay, here are the winners of the two giveaways that were specifically for BlogFest.
_____________________________________________________________
Winners of Giveaway #2 – Reclaiming My Shelf Space
Winner of Beat the Reaper – Josh Bazell
Teri Hardy
Winner of The Bourne Identity – Robert Ludlum
Connie Black
Winner of The Art of Racing in the Rain – Garth Stein
Michele Pineda
Winner of Empress Orchid – Anchee Min
Carrie Rundhaug
Winner of Giveaway #3 – Celebrating Becoming a Book Depository Affiliate
For my last giveaway, I am advertising becoming a Book Depository affiliate by giving away any book of your choice that is less than or equal to $15 USD. This giveaway was
International.