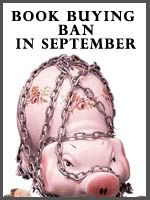 Bella, from
A Girl Reads a Book
is hosting a
Book Buying Ban in September
on her blog. We've been joking about it throughout all of August and have been encouraging each other (sometimes through shameless shaming) to read the books we've already bought so that all those books we have gaining dust on our shelves will get some quality time and love.
I've been labeled the unofficial-official book buying police. I'm not sure how this happened, but all my spendthrifty bloggy friends always joke that they better keep their purchases secret from me for fear that I pull out my wagging finger (which I have actually pulled out a few times already)!
So here it is. I'm writing a post on how you can get through the month of September without buying a book. Here are a few tips:
Make a spreadsheet to help track what you most likely would have bought and how much you are saving. This can also serve as your October wishlist/shopping list (hopefully you will be reformed and will buy what you can actually read in October though).
Example:
| | | |
| --- | --- | --- |
| | | |
| The Windup Girl | Bacigalupi, Paolo | $9.99 |
| With the Old Breed | Sledge, Eugene | 10.49 |
| Howl's Moving Castle | Jones, Diana Wynne | 6.49 |
| Total (saved) | | $26.97 |
Utilize the wishlist/plan to read on Shelfari, the customizable lists on GoodReads, or the wishlist on LibraryThing to make a fantastic wishlist for October.
If you really get an itch, get a jar and actually put money in it for every book you would have bought. At the end of the month you'll see how much you've saved.
Make a NaNoWriMo progress bar to update your TBR progress. I think I'm actually going to keep my bar on my sidebar from now on to help with my acquiring habits.
Talk to other people and get encouragement from them to keep you from buying.
Follow the Twitter hashtag, #TBRMonth for support!
If all this fails, Fiona from
The Book Coop
has begged for this:
Note: This event is for fun. We want to give the authors' books we have purchased some love after their books have been sitting gathering dust on our shelves. We bought their books for a reason so we all want to read them! Don't worry booksellers and authors, we'll be back in force at the bookstores in October!
My Final TBR Count: