Last month, I was flipping through channels on the TV and came across, "
America, The Story of Us
" on
The History Channel
. It was so interesting that I put out a call for my friends, family, and fellow bloggers to help me find books that are not the traditional Colonial American History learned in school in my post, "
Inspiration! Suggestions Needed!
" I also asked my international book blogging friends to tell me about books they recommend about their countries.
I've compiled a list of people's responses and will definitely be adding some of these (if not all of them) to my ever-growing To Be Read list.
Because the list and descriptions are fairly long, I will post the Fiction recommendations people gave me in Part Two of the post tomorrow!
All the product descriptions/reviews come from
Amazon.com
unless otherwise noted:
Non-Fiction
A People's History of the United States
- Howard Zinn (recommended by my brother-in-law)
Consistently lauded for its lively, readable prose, this revised and updated edition of A People's History of the United States turns traditional textbook history on its head. Howard Zinn infuses the often-submerged voices of blacks, women, American Indians, war resisters, and poor laborers of all nationalities into this thorough narrative that spans American history from Christopher Columbus's arrival to an afterword on the Clinton presidency.
Addressing his trademark reversals of perspective, Zinn--a teacher, historian, and social activist for more than 20 years--explains, "My point is not that we must, in telling history, accuse, judge, condemn Columbus in absentia. It is too late for that; it would be a useless scholarly exercise in morality. But the easy acceptance of atrocities as a deplorable but necessary price to pay for progress (Hiroshima and Vietnam, to save Western civilization; Kronstadt and Hungary, to save socialism; nuclear proliferation, to save us all)--that is still with us. One reason these atrocities are still with us is that we have learned to bury them in a mass of other facts, as radioactive wastes are buried in containers in the earth."
If your last experience of American history was brought to you by junior high school textbooks--or even if you're a specialist--get ready for the other side of stories you may not even have heard. With its vivid descriptions of rarely noted events, A People's History of the United States is required reading for anyone who wants to take a fresh look at the rich, rocky history of America.
The Politically Incorrect Guide to American History
- Thomas E. Woods, Jr. (recommended by my brother-in-law)
Claiming that most textbooks and popular history books were written by biased left-wing writers and scholars, historian Thomas Woods offers this guide as an alternative to "the stale and predictable platitudes of mainstream texts." Covering the colonial era through the Clinton administration, Woods seeks to debunk some persistent myths about American history. For instance, he writes, the Puritans were not racists intent on stealing the Indians' lands, the Founding Fathers were not revolutionaries but conservatives in the true sense of the word, the American War Between the States (to even call it a civil war is inaccurate, Woods says) was not principally about slavery, Abraham Lincoln was no friend to the slaves, and FDR's New Deal policies actually made the Depression worse. He also covers a wide range of constitutional interpretations over the years, particularly regarding the First, Second, Ninth, and Tenth amendments, and continually makes the point that states' rights have been unlawfully trampled upon by the federal government since the early days of the republic. Though its title is more deliberately provocative than accurate, Woods' attack on what he sees as rampant liberal revisionism over the past 25 years proves to be an interesting platform for a book. He's as biased as those he rails against, of course, but he does provoke thought in an entertaining way even if he sometimes tries to pass off opinion as hard facts.
This quick and enjoyable read is packed with unfamiliar quotes, informative sidebars, iconoclastic viewpoints, and a list of books "you're not supposed to read." It is not a comprehensive or detailed study, but that is not its aim; instead, it offers ideas for further research and a challenge to readers to dig deeper and analyze some basic assumptions about American history--a worthy goal that Woods manages to reach
. --Shawn Carkonen
Hailed at the time of its publication in 1969, Bill Hosokawa's "Nisei" remains an inspiring account of the original Japanese immigrants and their role in the development of the West. Hosokawa recounts the ordeals faced by the immigrant generation and their American-born offspring, the Nisei;the ill-advised government decisions that led to their uprooting during WWII; how they withstood harsh camp life; and their courageous efforts to prove their loyalty to the United States.
Americans have lost touch with their history, and in Lies My Teacher Told Me Professor James Loewen shows why. After surveying eighteen leading high school American history texts, he has concluded that not one does a decent job of making history interesting or memorable. Marred by an embarrassing combination of blind patriotism, mindless optimism, sheer misinformation, and outright lies, these books omit almost all the ambiguity, passion, conflict, and drama from our past.
In this revised edition, packed with updated material, Loewen explores how historical myths continue to be perpetuated in today's climate and adds an eye-opening chapter on the lies surrounding 9/11 and the Iraq War. From the truth about Columbus's historic voyages to an honest evaluation of our national leaders, Loewen revives our history, restoring the vitality and relevance it truly possesses.
Thought provoking, nonpartisan, and often shocking, Loewen unveils the real America in this iconoclastic classic beloved by high school teachers, history buffs, and enlightened citizens across the country.
During World War II a community called Manzanar was hastily created in the high mountain desert country of California, east of the Sierras. Its purpose was to house thousands of Japanese American internees. One of the first families to arrive was the Wakatsukis, who were ordered to leave their fishing business in Long Beach and take with them only the belongings they could carry. For Jeanne Wakatsuki, a seven-year-old child, Manzanar became a way of life in which she struggled and adapted, observed and grew. For her father it was essentially the end of his life.
At age thirty-seven, Jeanne Wakatsuki Houston recalls life at Manzanar through the eyes of the child she was. She tells of her fear, confusion, and bewilderment as well as the dignity and great resourcefulness of people in oppressive and demeaning circumstances. Written with her husband, Jeanne delivers a powerful first-person account that reveals her search for the meaning of Manzanar.
Farewell to Manzanar has become a staple of curriculum in schools and on campuses across the country. Last year the San Francisco Chronicle named it one of the twentieth century"s 100 best nonfiction books from west of the Rockies.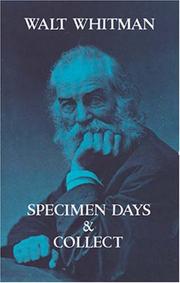 Specimen Days, published in 1882, provides an extraordinary picture of an aging poet reassessing the path of his long life, one intrinsically linked with the trajectory—and traumas—of the nation he cherished so deeply. Its diary-like entries, is a prose compilation of a life lived richly and in the service of others, as well an enduring portrait of a monumental writer. Specimen Days reveals the remarkable course of Whitman's life and accomplishments, starting with his boyhood spent roaming the coast of Long Island, to his days as a writer and observer of the cities of New York and Brooklyn, to his volunteer work as a Washington field nurse during the Civil War, and finally to his serene nature writings and travel diaries as an older man. Whitman's book of memories resounds with striking sections on war, nature, people, and travel. Composed by arguably the finest and most original of American poets, Specimen Days is an underappreciated autobiographical masterpiece by one of America's most important writers of any generation.