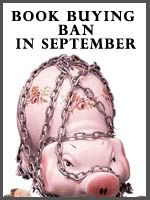 I'm not gonna lie...I am the book buying police. Bella from
A Girl Reads a Book
confessed on Twitter a week or two ago that her TBR list was out of control. Not a virtual TBR list--these were actually books she owns. Want to know the number she gave us?
2,840!!!!
That's right. She owns almost 3,000 unread books. So, in and effort to get her to read her own books before she buys even more, a group of us helped convince her (but really I think she made the decision on her own) that she should whittle her list down to a more manageable size. I mean, what kind of gems must she have in her library that she has yet to discover?
Which brings this post to me. I am no saint. I own 101 paper books and 107 e-books (most of the e-books I got for free)! So even if I say that Bella has a book buying/hoarding/spendthrift behavior problem, I clearly cannot throw stones because I have the same problem.
My proverbial cup runneths over! So what am I doing? I am joining Bella's September Book Buying Ban! Some of my poor, neglected books are going to finally be read.
I am not allowed to purchase or borrow any books during the month of September except for the following:

The Thrill Me! Book Club I meet up with every month

No requesting any new review copies

No entering giveaways or contests on blogs, Twitter, or otherwise

My goal is to get down to 80 paper books before I buy any others (with the exception of my book club books)
Crazy you say? Maybe, but Bella is also setting up a bookish swap at the end of the ban so we will be able to swap books, bookmarks, book totes, or any other bookish thing with someone participating in the ban with us at the end of September. Oh, and we also get to mercilessly make fun of each other's terrible spendthriftiness on Twitter for the entire month!
If you have a problem, come and join us in the book buying ban! We're all in it together and we're going to have a great time giving love to our unread books!
**Update: I miscounted and found that I have
102 paper books
not 101.