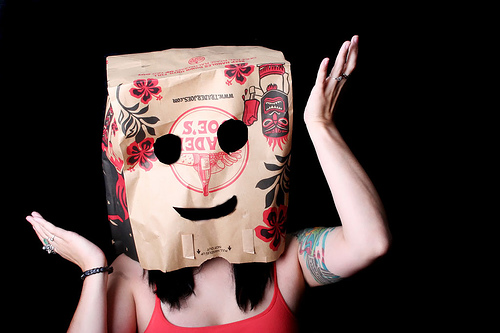 The Great Grocery Bag Exchange!
Have you been aching to get a piece of the international blogging community, but are short on funds? Well, look no further because here is an exchange that is relatively inexpensive and helps you find and meet bloggers from outside of your country! The Great Grocery Bag Exchange is here and I am looking for people to join in on the worldwide fun!
How did this start? Well, in the
Book Read 'Round the World event
on my blog, a group of us are sending small gifts with a book we all read around the world. Some of the cooler gifts we have been receiving have been reusable grocery bags! They are cheap, you use them all the time to lug stuff around in, and they are all unique since they are from a country other than our own. For a few of us, it's become an obsession. I've received bags from Germany, The Netherlands, and Australia and am looking forward to adding to my collection. I look so posh when I go to the grocery store with my special bag that no one else has! Haha!
If you are interested in joining, fill out the Google Doc form below. There are a few requirements:
You must send between 1-2 reusable grocery bags.

A small treat from your country is optional (postcard, candy, etc.) but is NOT required.

You must have an active blog or be active on Twitter so I can keep in touch with you.

You can sign up to send to more than one person, but no more than three people.

You must be willing to send the package First Class or by Air Mail (no Pony Express, Sea Mail, or other super slow mail is allowed).


If you feel like you can meet all these requirements, fill out the Google Doc Form below by
November 12, 2010

.
I will pair people up and send e-mails out with who you will send to one November 13.
You will have one week to ship everything out to the person or people that you have been paired with.
Remember that others are buying bags for you and are spending money on postage as well so it is courteous to get your package out on time. All your information will be kept private and will only be shared with those you swap with.
Signups are closed.