Ahhh....the continuing journey of Richard and Kahlan through the Sword of Truth series. I'm reading one of these chunksters a month so I was excited when I picked up
Blood of the Fold
and saw that it was only 623 pages long. I figured, "This is a short one compared to the 800+ pages I've been reading in the series. This will go fast!" I was wrong. While I enjoyed the book, it was definitely slower moving than the first two.
Blood of the Fold
continues on where Stone of Tears leaves off. The Sisters of the Dark have fled the Palace of the Prophets, Richard is back in the Midlands, and Kahlan is still separated from him on her own journey. While Richard and Kahlan were able to defeat Darken Rahl again in Stone of Tears, a new threat has emerged. The leader of the Imperial Order, Jagang is threatening to take over the world and eradicate it of magic. The Blood of the Fold, a group of people who believe magic is evil and will stop at nothing to eradicate it, has forced Richard to take over the Midlands and demand all people of the Midlands surrender unconditionally and swear fealty to him in order to quell the thread from the Imperial Order (to which The Blood of the Fold belongs). He is also trying to protect Kahlan from being discovered because her magic is exactly what the Imperial Order is trying to eradicate.
The Palace of the Prophets has a really large role in this book. I found its storyline in Stone of Tears to be somewhat boring, but in this book the pace really picks up. There is still the boring element to it. Poor Sister Verna has a lot of paperwork which Terry Goodkind really wants to tell us readers about (I felt like that went on for way too many pages), but Verna and Warren are very likeable characters and I much preferred their storyline in this book to the last one. I also liked how the Sisters of the Dark who were a major threat in
Stone of Tears
played out in this book. They were infinitely more interesting in
Blood of the Fold
. For all those fans of Zedd, Wizard of the First Order, you might be disappointed in this book. His role is somewhat reduced as is Kahlan's. I like them both immensely and was waiting for them to have a more prominent role. It never happened. The book is largely about Sister Verna and Richard. It was appropriate for the storyline, but also made for a little bit slower reading.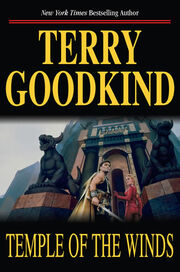 I do recommend people who have been reading this series and have the same problem as I did to trudge through and prevail! I am about 200 pages into the fourth book, Temple of the Winds, and am really enjoying it so far. It's a big chunkster at 822 pages, but I am breezing through it and finding it difficult to go to bed at night for want of reading more! Don't worry, while
Blood of the Fold
is slower, it sets up
Temple of the Winds
nicely as far as I can tell and brings Terry Goodkind back from my "On Notice List" (thank you Stephen Colbert for letting me borrow your list), to my "Awesome Author List".