This year I have been having a lot of trouble getting in the Christmas Spirit. To make an effort, I decided to make a list of my favorite Christmas movies. Some of these I watch year round while others I only watch as part of my Christmas tradition.
White Christmas
This is one of my favorite movies of all-time. I admit it. I had a huge crush on Bing Crosby as a kid and developed a huge crush on Danny Kaye in my teen years. I love how Vera Ellen danced and Rosemary Clooney sang. I especially loved their dresses at the end of the movie and secretly wish I had one exactly like theirs to wear EVERY Christmas. I grew up with musicals because my mom liked them and this movie resonated with me. The songs in this movie are so good. Everytime I see snow I sing,
"Snow…snow…snow….snow,"
just like they did in the movie. I know I'm a dork, but wouldn't life be more fun if sometimes we all sat around and sang like they did in the movies?
Love Actually
This movie is also among my favorites and isn't only a Christmas tradition. I enjoy watching this film all year long. Hugh Grant is so loveable as the British PM and is just classic when he calls Margaret Thatcher a "saucy minx". Or how about Billy Mack becoming a beloved Christmas figure by being utterly vulgar. All the characters in this are so loveable and it is one of my favorite movies because it has such wonderful actors like Emma Thompson, Alan Rickman, Martin Freeman, Colin Firth, Andrew Lincoln, and Liam Neeson. It's such a feel good movie that personifies the new love, unrequited love, love of family, love on the rocks, and love of friendship.
While You Were Sleeping
This is another favorite movie of mine that I watch all year round. Sandra Bullock is one of the sweetest actresses and she is so wonderful in this movie. She plays Lucy, a young woman who is a booth operator at the "L" (Chicago Transit Authority) that is hopelessly in love with one of the regular riders, Peter. When he falls onto the tracks, Lucy saves him and is taken in by Peter's family while he lays in a coma. They mistakenly think that Peter and Lucy are engaged and lots of hilarity ensues. Because Lucy doesn't have family she is reluctant to tell Peter's family the truth about her not being engaged to Peter. Peter also has a brother named Jack that Lucy begins to realize might be the one she is actually in love with. I really love this movie. Some of it really resonates with me which is maybe why I love it so much.
Elf
What is funnier than Will Ferrell as an elf? I can't really think of anything. I love this movie! Zooey Deschanel is SO amazing in this as well.
When she and Will Ferrell sing "Baby It's Cold Outside" I was taken aback at what a lovely voice she has.
It has this really old-timey quality to it that is just soothing to listen to. The movie also features another favorite actor of mine, Peter Dinklage! He's so funny even though he doesn't have an overly large part in the movie. Will Ferrell has this very innocent and hilarious quality in the film that I really enjoy and it is possibly my favorite movie of his.
The Santa Clause
OK…I'm not gonna lie. I might be a little embarrassed to put this one on, but you know what? I love this movie. Eric Lloyd was a super cute kid and Tim Allen was pretty darn funny in this movie. I also wanted to put a movie about Santa Claus in this list because I can't leave the jolly fellow out! It's been several years since I've seen this film, but I really like it and if it came on TV I would be sure to sit and watch it!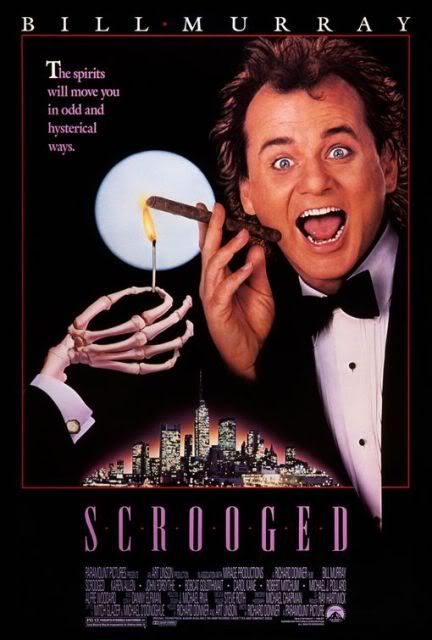 Scrooged
Scrooged is one of the first Christmas movies I remember seeing and absolutely loving besides White Christmas. Bill Murray does the unlikeable but eventually loveable Scrooge character and the cast surrounding him in this movie is awesome. Honestly, who doesn't love Mary Lou Retton as Tiny Tim? She was my hero as a kid! I also remember thinking how hilarious Murray was when he told the production crew to staple the antlers on the reindeer mice—he was so ruthless! Glad he learned his lesson in the end!
So there you have it. My favorite Christmas movies of all-time. I know I left off the classics like
It's a Wonderful Life
and
Miracle on 34th Street
but honestly, they are not among my favorites.
What are some of your favorite Christmas or Holiday films?