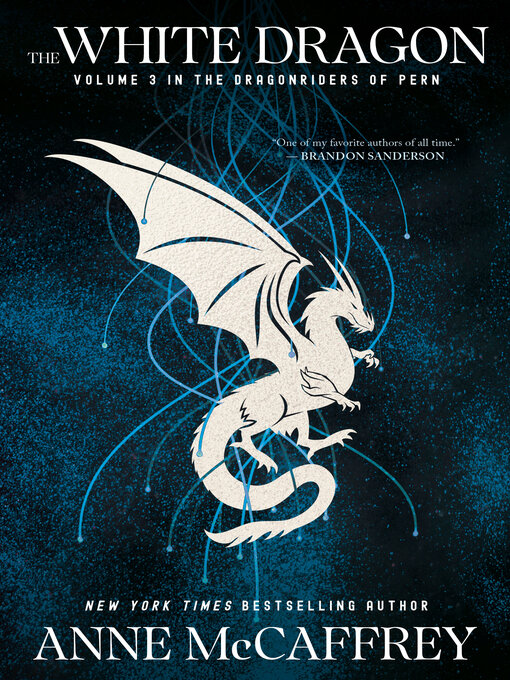 I feel a little sad after reading this month's
Anne McCaffrey and All Her Worlds
BotM. We are finishing off the last Dragonriders of Pern book,
The White Dragon
and moving onto the Tower and the Hive series. As you know from my previous posts, I love the Pern series and have really enjoyed revisiting these books.
The White Dragon is the story of Jaxom, a boy who will become Lord Holder of Ruatha Hold. He has inadvertently
Impressed
a dragon that is unlike any other dragon on all of Pern. His white dragon, Ruth has thrived and grown along with young Jaxom. Still, Jaxom has to endure the taunts from holder and weyrfolk alike at the small, odd dragon. Jaxom knows Ruth is unique and Ruth also has special talents that other dragons do not possess. This sets up for a very interesting adventure when a queen dragon egg goes missing from Benden Weyr.
When I read the books the first time through, I read The Harper Hall trilogy first. This time around, I have read The Dragonriders of Pern first. I have to say that I think I like reading it in the order I originally read. There are a few characters that McCaffrey throws in as if you already know who they are in The White Dragon. If I had not previously read The Harper Hall Trilogy, I would have been a little confused as to who Menolly and Piemur were. I also think you get a much fuller version of Masterharper Robinton in The Harper Hall Trilogy which makes him even more likeable in the Dragonriders of Pern.
I have heard that the recent release of the film
Avatar
has a lot of people wishing they could live on a planet as beautiful as Pandora. I readily admit that when I was reading The White Dragon I looked at my husband and said, "I just want to live on Pern." I think I always have! Too bad it is a fictional place! I think Anne McCaffrey fashions her characters so that readers find themselves able to relate to them and even think of them as people that we might either like or hate to be friends with. I love how she describes the Southern Continent as well. It sounds like such a beautiful place. I think I also find myself wanting to be part of a society that truly does work together instead of only looking out for #1.
Honestly, I am looking forward to
The Tower and the Hive
series with the group because I have been so fixated on Pern for so long that I really feel like I need to explore Anne McCaffrey's other work. I am hoping that we go back to the Pern novels though because I really enjoy them. The series is my favorite....yes, I love it more than Harry Potter, Twilight, Lord of the Rings, The Sword of Truth, The Song of Ice and Fire, etc....it's my
absolute favorite!
List of Pern series I have mentioned in this post:
The Harper Hall Trilogy
Dragonsong
Dragonsinger
Dragondrums
The Dragonriders of Pern
Dragonflight
Dragonquest
The White Dragon